Make the best of your mountain rides.
It's always fun to plan out a ride into the mountains. Picking the right routes, putting a pin in places you want to explore and experience, getting the motorcycle ready and just waiting in anticipation for the day to arrive when you ride off.
But have you planned and prepared for everything?
Sarath Shenoy, an avid traveler and motorcyclist, has spent the last many years exploring the Himalayas. His journeys have taken him all the way from Zanskar and Spiti to Nepal and Arunachal Pradesh. But while they are picturesque, pristine and breathtaking, the Himalayas can also be quite an unforgiving place to ride.
The extreme climate in some of these locations can often get the better of riders. Frost bites and altitude sickness can be very real dangers, and can cut your ride short or even leave you stranded. The temperature drops can sometimes be so drastic that it can become too much to handle for an under-prepared rider.
"The first time I went into the mountains in 2015, I was very under prepared." recalls Sarath. "I had the wrong set of gloves for my journey, which resulted in 6 of my fingers going numb and pale. I couldn't ride further without medical assistance."
From that day onwards, Sarath spent a lot of time learning about what gear will work with what weather conditions. He made it a point to always prepare himself for any eventuality on a mountain ride.
On a recent ride from Zanskar to Sonmarg, he came across dry conditions in Zanskar and damp, snowy conditions in Sonmarg, or Snowmarg as Sarath affectionately calls it, within a couple of days. The change in conditions would have been too much to continue riding, but thankfully, this time he was prepared.
"I had the Nirvik riding jacket on, which had enough vents for my body to breathe in the dry conditions at Zanskar. When the weather got cold and nasty, I would just zip up all the vents and maybe put a wind cheater on top to retain my body heat.", Sarath recounts, showing that a little preparation along with the right gear can transform the riding experience.
Getting the right gear also helped Sarath in Zanskar's rough terrain, where he took quite a tumble after sliding and falling from his motorcycle. The D3O Level 2 shoulder, chest and back protection in his riding jacket meant he could get back on his feet and keep riding.
"I had a little pain, but thankfully no broken bones. So thanks to my jacket, I could just get up, dust myself off, start riding and find my pace again."
A seasoned mountain adventurer now, it's no surprise that Sarath's list of riding gear is pretty comprehensive. Part of his mountain riding gear now are a full-face helmet, all weather riding jacket, riding pants, Royal Enfield X TCX Stelvio waterproof riding boots and a pair of riding gloves.
When it comes to a helmet, full-face is the only way to go for a Sarath. He owns a dual sport helmet with a beak and anti-fog lens - a helmet that he trusts will protect him on his adventures.
Sarath also owns the Nirvik and Khardungla V2 riding jackets. In fact, because he goes on rides that can often stretch to 130-140 days, he often carries both jackets along.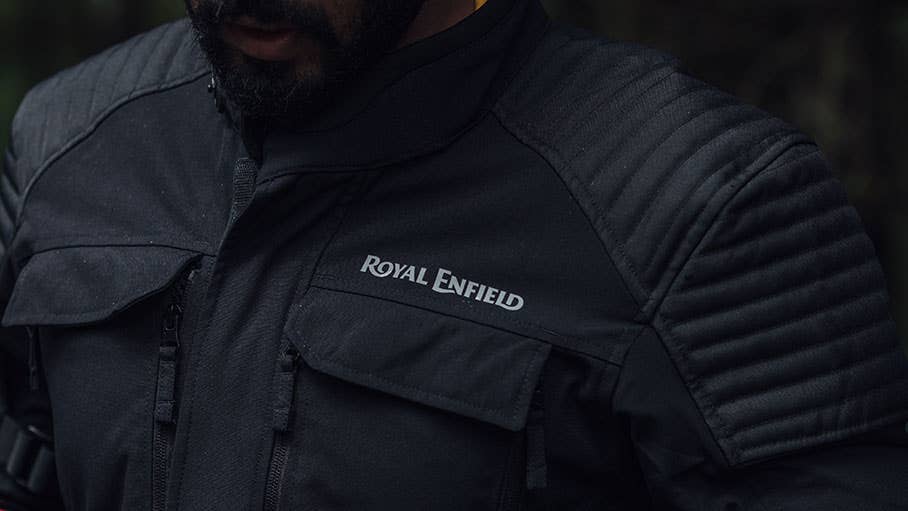 "I usually carry one set of armours that would go on both jackets. Then I would just fold and keep the other jacket in the saddle bag because it might come handy when you're on the road for so long."
Given his experience on his first ride to the mountains, Sarath's most prized possession would be a pair of heated riding gloves by Royal Enfield. He doesn't worry about his fingers going numb again, as the gloves keep his hands warm on freezing mountain rides. He does emphasise the importance of gloves, and how well they fit:
"Often all-weather gloves are very puffy. It feels like you're riding with boxing gloves on! Thankfully, the heated riding gloves I have fit like regular gloves and give me a good grip on things."
Sarath's gear has allowed him to go on some truly amazing journeys. Recently, he made a trip to visit 14 passes in the Himalayas just before the roads close for the season. This meant going through Jispa, Zanskar, Leh, Kela Pass, Pangong, Hanle, Umling la and back in harsh weather conditions. But this time around, he did not face many hurdles mainly because his gear had prepared him for the journey.
"At one point on our ride, the temperature fell to about -15 degree celsius. But we came prepared and just layered up - base layer, thermal liners, riding jackets and even a rain liner on top to stop the wind chill."
From being stranded with numb fingers and having to seek medical attention on his first ride into the mountains, Sarath has come a long way. He now exudes the confidence and knowledge of a seasoned rider who has been there and done that. And as any seasoned rider would agree, he cannot emphasise the importance of his gear enough.
"You cannot prepare for every mishap on an adventure. But you can definitely cut down the chances of your ride going wrong drastically by picking the right gear. The right gear according to the weather, terrain and utility."
So as you're planning out routes to take, places to see and things to do on your next ride to the mountains, spend some time planning and ensuring you're taking the right gear for your adventure.