THE ESSENTIAL GUIDE TO MONSOON RIDES
THE ESSENTIAL GUIDE TO MONSOON RIDES
A motorcycle ride means exploring adventures of all kinds - come rain or shine or snow. Although a true rider will travel in every season, monsoons have always been a little special. The monsoons have come again and it's time to prepare yourself for anything the weather might throw at you.
"Some people feel the rain, others just get wet"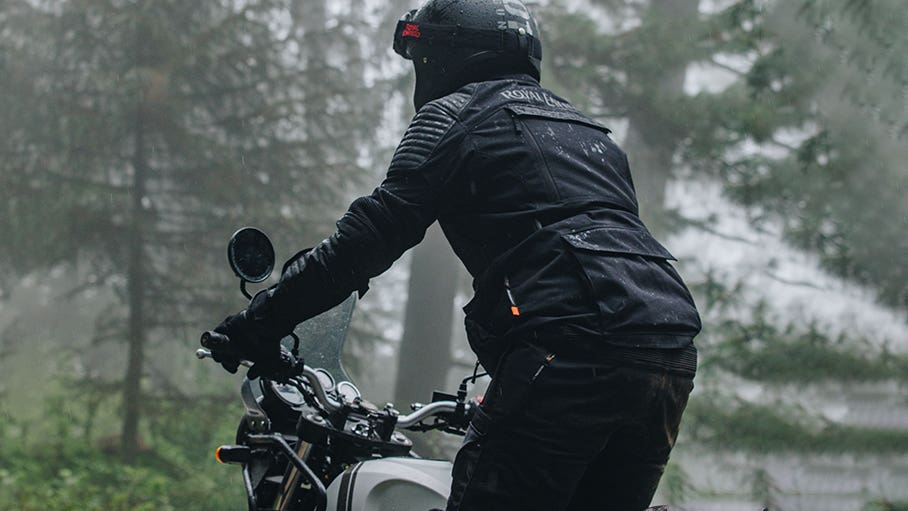 Riding during monsoons means the rider will always have to be prepared and have the ability to adapt to the ever-changing weather conditions. In such scenarios, there's only one word to keep in mind: Waterproof!
Waterproof riding gear is the most basic necessity during the monsoons, keeping the rider dry while also ensuring maximum protection.
Here are a few riding gears to keep in consideration when riding this monsoon season:
WATERPROOF JACKETS -Keep your body dry and ready for the rest of the ride.
STORMRAIDER
A blend of safety, comfort & convenience, the Stormraider riding jacket is CE certified & built with superior abrasion-resistant rainproof materials like Polyester fabric with double PU coating and sealed seams to make it highly resistant to rain-showers. It is also equipped with ergonomically designed D30 EVO X, CE Level 1 Flex armours, for superior protection.
NIRVIK
Superior protection with CE certification, this jacket is meant for all altitude rides. Crafted from high-density NYLON & Cordura fabrics, equipped with D3O – EVO PRO and D3O VIPER CE Level 2 protectors around the shoulders and elbows, for superior protection.
KHARDUNGLA
Highly adaptable to any weather and all terrains, this jacket comes with a three-layer construction in addition to a separate rain jacket for your safety and is equipped with D3O EVO PRO CE level 2 armours which combine higher impact protection with lightness, flexibility and offer increased durability.
RAIN JACKETS AND RAIN SUITS
When the rain gets heavier, double up the protection.
Made with 100% Polyester and reflective branding, RE rain liners are made to brave any storm and withstand heavy downpours effectively. It is also easy to roll and stow (bag included)
Another option you can go for are rain liners made with 100% Polyester, perfect for wearing as a liner inside your riding jacket or as a stand-alone winter jacket.
WATERPROOF GLOVES
The hands that lead the way, need to be kept dry and protected.
BIZZARD
AKA jack frost gloves, these are rainproof, extreme weather condition riding gloves meant to keep your grip solid and hands steady for long rides, especially at high altitudes. Made with Polyamide and Polyester fabric, these gloves are also equipped with warm liners for extreme weather conditions.
STRIKER
Made of Polyester, these are rain-proof, winter-riding gloves built to keep your hands warm and comfortable. An additional feature is a wiper on the left hand's index finger to further add utility. These all-weather, all-terrain gloves appeal to thrill-seekers with rock-solid determination
STOUT
Durable, thick, and dependent, these gloves come with a waterproof membrane and a warm lining, making them ready for all-weather and all-terrains. The high-grade leather construction and PVC knuckle protectors help protect your hands in all conditions.
INTREPID
These rain-proof gloves come with a waterproof membrane and all-weather properties to keep you protected at all times. Its warm lining (Bemberg) exists to keep you warm on rides to higher altitudes. Heavily padded with a memory sponge on the fingers, palm and below the knuckle, the Intrepid gloves promise comfort and protection at every rev of your journey.
While these were a few items to put on your list of gear and equipment to carry during the monsoons, you should also remember to:
Check your tyres and for old brake pads
Pay attention on the road
Park cautiously
Maintain suitable distance