BLITZ RAINPROOF BACKPACK BLACK
The no-frills Royal Enfield Blitz Rainproof Backpack is for times when you wish to pack light. Carry it to the gym, long ride or an overnight trip. There's more fun to be had with less on your shoulders
Branded & Marketed by Royal Enfield
Usually ships within 24 hours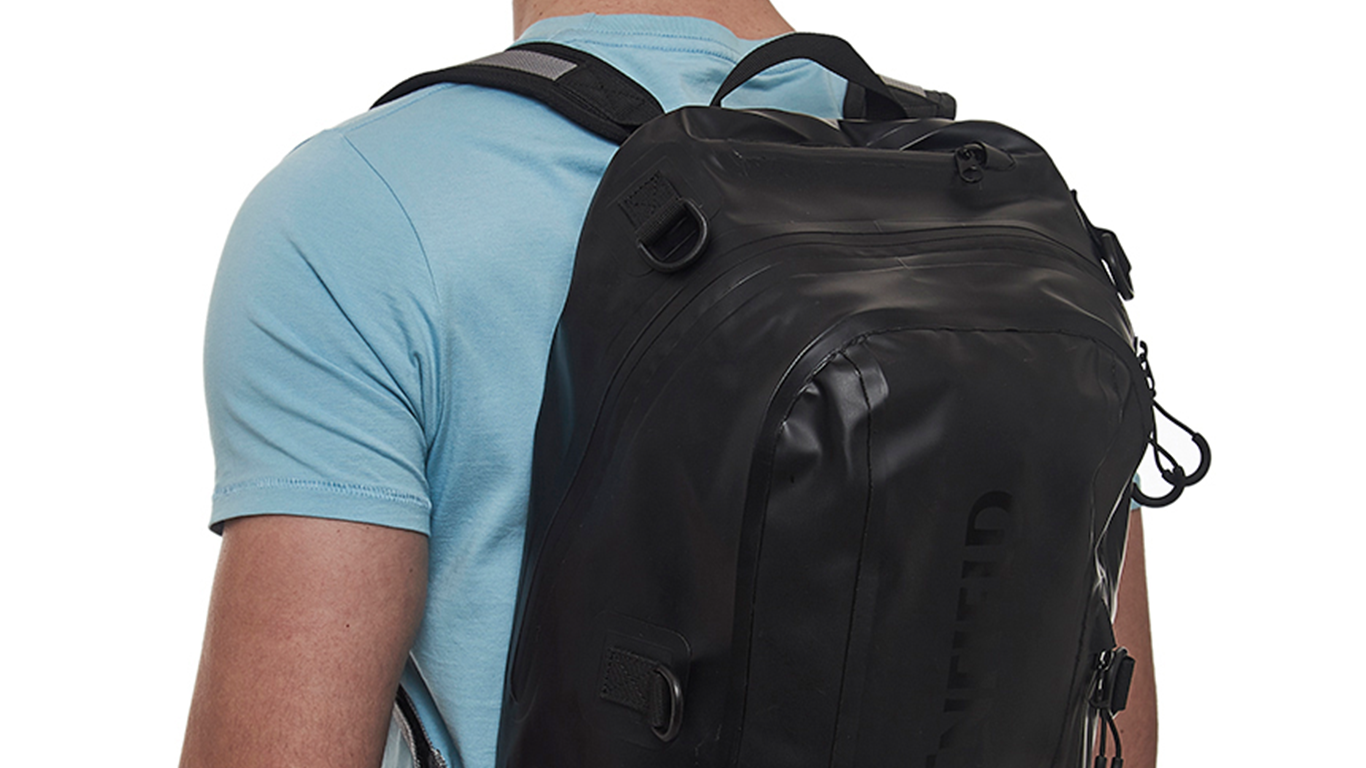 PRODUCT HIGHLIGHTS
Backpack.
Construction and Materials: Outer Shell Material: 100% PVC.
Zero Leak Seams: Heat sealed seams to prevent water ingression.
Rainproof Zippers: Heavy-duty PVC sealed rainproof zippers prevent water ingression.
Air Exhaust Valve: A screw-down and waterproof valve to let the air out of the bag post packing. This improves the waterproofing, reduces the risk of condensation of moisture inside the bag and also reduces the volume of the bag, making it easier to carry or mount.
Volume and Compartments: Total Cargo Volume: 22 litres, Rainproof Main Compartment Volume: 20 litres.
Padded Laptop Sleeve: Fits laptops upto 14 inch screens.
Rainproof Front Pocket: A quick-access stash pocket for things you need on the go.
Rainproof Top Stash Pocket: A top access stash pocket ideal for storing eyewear, wallets, cards, earphones, etc.
Back Support: 3D-mesh and high-density foam padded panel supports the back, in your riding position or off the bike.
Shoulder and Sternum Support: 3D-mesh and foam padded adjustable shoulder straps and a rail-mounted sternum lock, help in evenly distributing the weight ;
Daisy Loops: On shoulder straps let you attach your stuff to the backpack with carabiners.
Mounting as a Motorcycle Tail Bag:
Lash Points: 6 reinforced D-rings on the bag let you directly strap mount the backpack on the rear seat or carrier grill of your motorcycle as a tail bag.
Zippers: All zippers are rainproof with handy pull tags.
Tuck Away Straps: Velcro tabs to tuck away the webbing of the shoulder straps, so the straps don't hang loose when you're riding.
Helmet Cradle: Carry your helmet or jacket in the D-ring and bungee net system.
BLITZ RAINPROOF BACKPACK BLACK