The Royal Enfield Keylong Bagpack is specifically designed for motorcyclists. Thanks to its 32 litres volume, a dedicated-entry laptop pocket, water resistant roll-top main compartment, quick-access pockets and multiple lash points, our Keylong Backpack has your back!
Branded & Marketed by Royal Enfield
Usually ships within 24 hours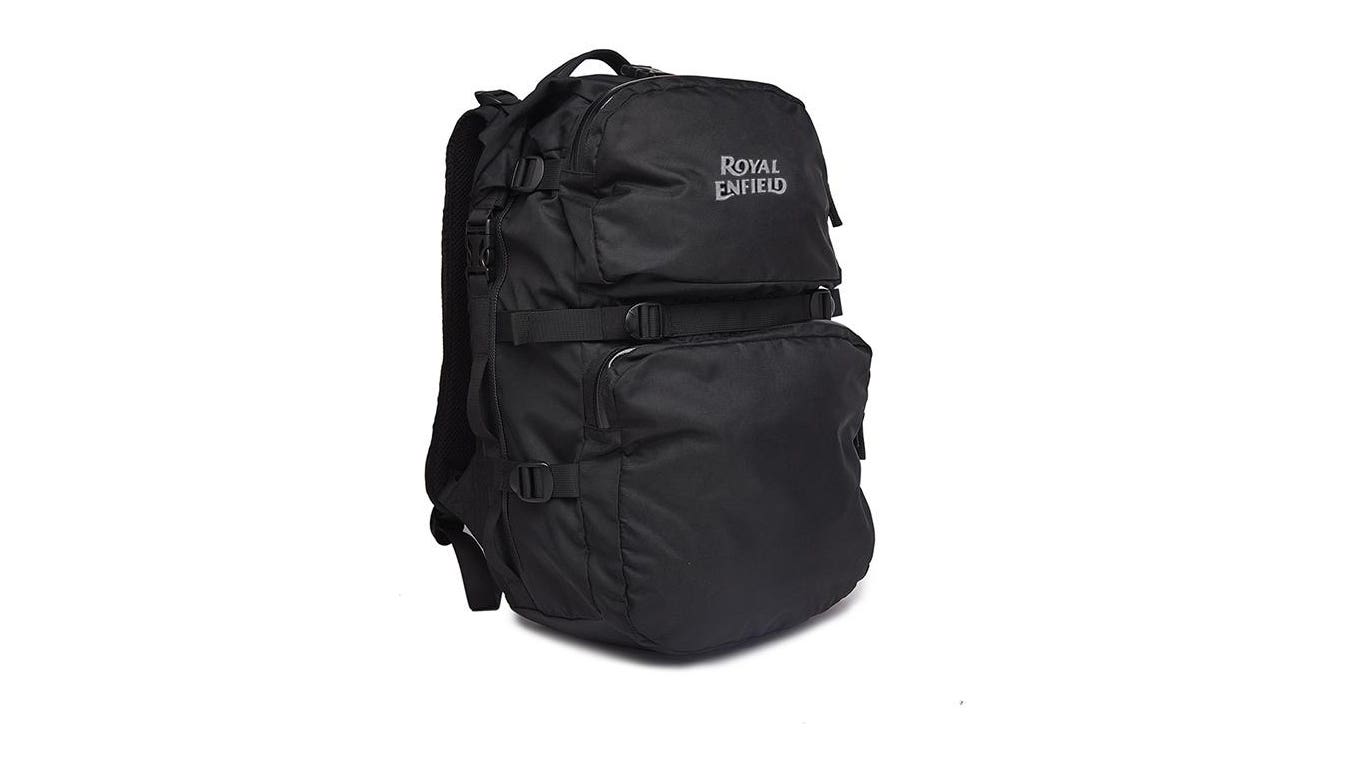 PRODUCT HIGHLIGHTS
Backpack.
Materials and Construction: Primary Material: 100% nylon ;
Drybag Material: 100% polyester with sealed seams ;
Bottom: Rubber coated polyester high-density fabric.
Total Cargo Volume: 32 litres, Main Compartment Volume: 27 litres.
Dedicated-Entry Laptop Compartment: Padded and water resistant with a dedicated external waterproof zipper. Ensures quick access and storage of a laptop upto 14 inches, without the need to open the main compartment.
Waterproof Main Compartment: Roll-top closure (minimum 3 folds recommended) which includes a waterproof dry-bag with heat seamed seals on all joints ;
Dry bag attaches inside the main compartment with velcro, to help store wet and dry cargo separately.
Water Resistant Pockets: Bottom pocket has organiser pouches and a keychain holder ;
Top pocket hides a zippered pouch with soft micro-fiber lining to store your eyewear, phone, GoPro or memory cards.
Back Support: 3D-mesh padded panels support the back, on or off ride ;
Shoulder and Sternum Support: 3D-mesh padded shoulder straps with adjustment tabs on shoulders and a rail-mounted sternum lock help in evenly distributing the weight.
Compression Straps: 6 compression straps help in tightening the cargo, so the weight doesn't bounce around and stays close to your back.
Reinforced Lash Point: Reinforced daisy loops on either side of the bag let you bungee mount the backpack on your motorcycle, or to attach your stuff to the backpack with carabiners.