FUSILLADE RAINPROOF DUFFEL BAG CAMO GREY
Royal Enfield rainproof bags are meant for those for who keep going, regardless of the weather. They are built tough to take on the elements while protecting your gadgets, documents and essentials from water ingress. Carry the Fusillade on your motorcycle as a duffel bag or put it on your shoulders like a backpack as you walk the trail.
Branded & Marketed by Royal Enfield
Usually ships within 24 hours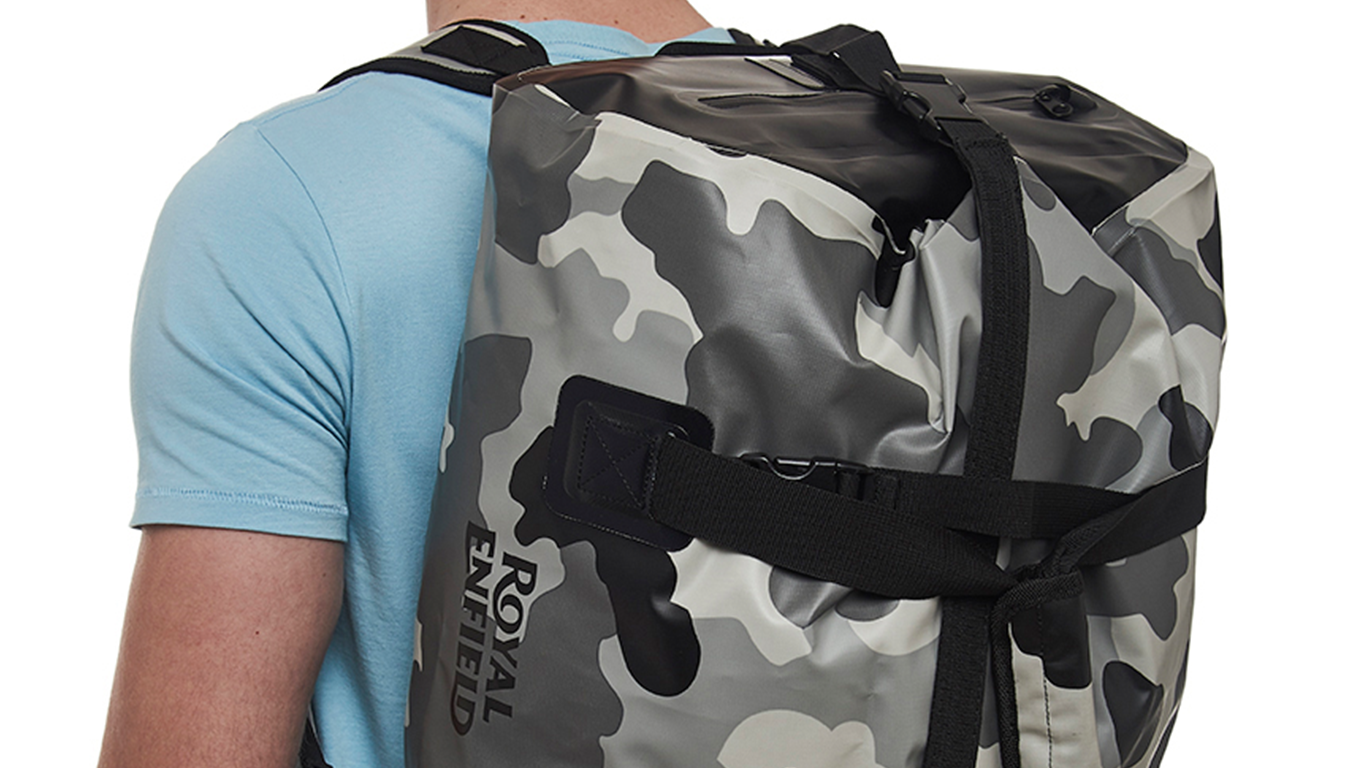 PRODUCT HIGHLIGHTS
Duffel bag.
Materials and Construction: Outer Shell Material: 100% PVC.
Roll Top Closure: Easy to seal the roll-top system for 100% rainproof performance. (Minimum 3 rolls are recommended).
Compression Straps: Two compression straps over the roll-top closure to ensure a great rainproof seal.
Zero leak seams and heavy-duty PVC sealed rainproof zipper prevent water ingression.
Converts into a Backpack: Stow-away straps can be installed to convert the duffel bag into a backpack. Great for carrying the load from the motorcycle to your overnight stay, when riding over multiple days.
Volume and Compartments: Total Cargo Volume: 37 litres.
Rainproof Side Stash Pocket: A side access stash pocket ideal for storing eyewear, wallets, cards, earphones, etc.
Functional Features: Back Support: High-density foam padded panels support the back, in your riding position or off the bike.
Shoulder and Sternum Support: 3D-mesh and foam padded adjustable shoulder straps and a rail-mounted sternum lock help in evenly distributing the weight.
Stow-Away Straps: Shoulder straps can be tucked away into a stealthy sleeve on the back.
Sturdy Handle: Sturdy carry handle lets you carry the duffel bag over short hauls.
FUSILLADE RAINPROOF DUFFEL BAG CAMO GREY