Flying Flea Duffel Bag Olive Green
The Royal Enfield 'Flying Flea' was para-dropped for despatch riders during World War II. The Flying Flea Duffel Bag is inspired by the standard issue bags of the soldiers who rode the Flying Flea in challenging times and terrains to carry messages between the troops.
Branded & Marketed by Royal Enfield
Usually ships within 24 hours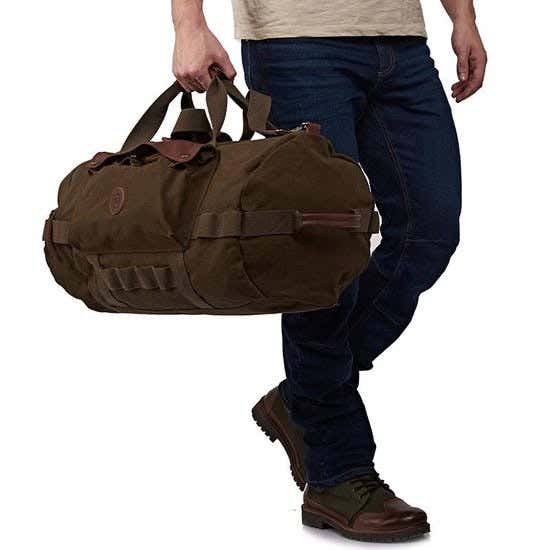 PRODUCT HIGHLIGHTS
Duffel bag.
Materials and Construction: Outer Shell Material: 100% cotton, waxed canvas fabric.
Metal Zippers: Genuine YKK metal zippers.
Metal Hooks: All metal hooks made from corrosion free zinc alloy with antique brass finish.
Leather trims: 100% genuine leather trims.
Volume and Compartments: Total Cargo Volume: 41 litres, Main Compartment Volume: 32.5 litres, Side Compartment Volume: 7 litres.
A quick-access side compartment for things you need on the go.
Front and Back Stash Pockets: Ideal for storing eyewear, wallets, cards, earphones, etc.
Internal Organisers: 2 wall compartments and 2 slim zippered pockets inside the main compartment to help you organise your essentials.
Sturdy Carry Strap: Sturdy carry straps make it easy to carry the duffel bag over the shoulders.
Side Carry Handles: 2 side carry handles let you carry the duffel bag over short hauls.
Daisy Loops: Let you attach your stuff to the duffel bag with carabiners or hooks.
Flying Flea Duffel Bag Olive Green