Journeys expressed through art | The Story of AOMS2
Journeys expressed through art | The Story of AOMS2
Royal Enfield recently concluded the second edition of its designing platform – Art of Motorcycling. The creative platform was launched in 2020 to fuel creativity amongst the artists, creators and motorcycling enthusiasts by bringing out their love for motorcycling. The Art of motorcycling is all about expressions of the journeys we take and memories we create on and off the saddle. Mr. Puneet Sood, National Business Head for North and West India, Nepal, Bhutan & Global Head - Apparel Business, outlines the philosophy behind the initiative:
"As a brand, Royal Enfield has always stood for self-expression. Our motorcycles have been the perfect canvas for customisation. The genesis of #ArtOfMotorcycling was to celebrate the ethos of exploration and motorcycling through the lens of art."
While the first edition in 2020 was a success, Season 2 took things up a notch. With more than 15K registrations, a 50% jump from the first year, the brand has seen phenomenal traction towards the initiative.
Mr. Puneet Sood: "Like the first season we have received an awe-inspiring response to this season as well, with more than 15k registrations. We are very excited to note that 8 out of every 10 participants were non-Royal Enfield owners and majority participation came from small towns."
The task for the participant was to express their love for motorcycling through creative illustrations. The reward? Access to exciting learning and collaboration opportunities at Royal Enfield, in addition to having their designs featured on Royal Enfield merchandise.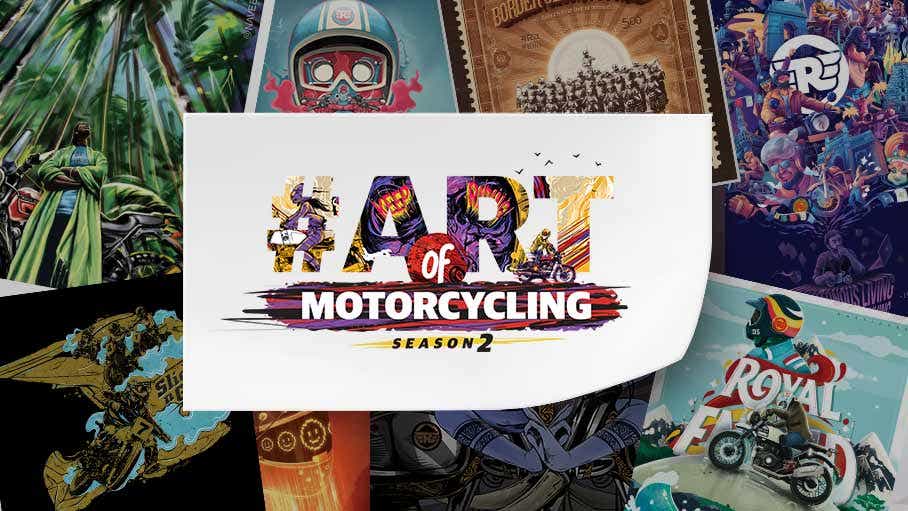 This year's top 3 winners are:
These 3 winners have won an amazing opportunity to express their creativity and co-create a capsule range with Royal Enfield.
The next 3 winners - Prashant Singh, Abhirath NC and Prathamesh Rumaji Shedge - also bagged an opportunity to intern with Royal Enfield design teams. In fact, Abhirath and Prathamesh won the rider's choice award through a poll on the Royal Enfield Instagram page. How do two people win a poll, you ask? It was a tie of course!
The audience weren't the only ones who picked the winners for Art of Motorcycling Season 2. This season featured an esteemed jury panel of fashion mavens Shantanu & Nikhil, ace photographer Bobby Joshi and visual virtuoso Vimal Chandran. Here's what they had to say about their experience:
Shantanu & Nikhil: "As designers ourselves, we admire when art takes various forms of expressions. It's inspiring to see such an overwhelming response from creative minds all over the world. We feel so honoured to be part of Art of Motorcycling with Royal Enfield and being on this immersive experience together. The way the participants have immersed their creative expression to put together their love for motorcycling is beyond impressive."
Bobby Joshi: "Art of Motorcycling Season 2 was a truly unique initiative and experience for me. I'm a photographer by trade and I always get a good kick out of going through visual art. The entries were not only exceptional in terms of quality, creativity, and craft but were also extremely inspiring and stimulating. I definitely had a memorable experience and journey as a jury."
Vimal Chandran: "It was an amazing experience being a part of Art of Motorcycling Season 2. As a visual artist myself, I love to see initiatives like these that promote artists of all kinds. To be a part of the initiative was a cherry on top, and I thoroughly enjoyed going through the entries."
Royal Enfield has always engaged with artists over the years and supported art projects, celebrating the ethos of exploration and motorcycling through the lens of various art forms. Some of these initiatives include Chifumi's Art Tour 2016, Ronny Sen's Highway Star 2017, Tank Project 2017, projects at Wheels & Waves 2017, Aid of Asia's endangered elephants 2018 and many more. Art of Motorcycling is another such unique platform that celebrates the cross section of motorcycling and art.
With over 10000 posts on #ArtofMotorcing, creativity reigned, free and spectacular designs came in from across the country. The 2 month long campaign brought together a diverse audience within the Royal Enfield community ranging from avid riders and aspirants to artists, illustrators, and graphic designers under a common cause - to celebrate our collective love for motorcycling.