Are you prepared to have a great adventure?
"Prevention is better than cure"
It's a pretty straightforward advice, passed down through the generations. It's also a phrase that most motorcyclists will agree with.
Akhtar is one of those motorcyclists. He is a seasoned rider with over 5 lakh kilometres on his motorcycle (the #BlackStunner) alone, along with many other adventures on all kinds of motorcycles.
His rides have taken him to many parts of the country. From high altitude roads to coastal routes, from tough rocky terrains to slippery snow trails, from the heat of the peak summer sun to extremely cold and icy conditions - he is a rider that has experienced a lot.
"My journeys give me a bag full of experiences. And these experiences are what fuel and prepare me for more journeys"
Akhtar emphasises the importance of being prepared as a rider. Whether it's a morning ride, a weekend adventure, a road trip with friends or a solo ride, the journey can be more enjoyable if the rider is geared up for it.
He recalls a recent winter solo ride into the snow-covered mountains.
"Riding in the snow can be a package deal of skids, falls and crashes. A rider needs to be prepared for sudden temperature drops and things like black ice, soft snow and wet roads"
Riding through Jalori pass and back to Jibhi in Himachal, he encountered black ice on the road. The loss of traction and the skidding of tyres can make the ride an unnerving affair. But he was not unsettled by this obstacle on his journey.
As his social moniker '@winter_wanderer' suggests, he has experienced these things before. There have been plenty of times where he has skidded and fallen from his motorcycle, only to get up without a scratch and continue the journey.
"This is all because I prepared myself for the journey with the right gear. My helmet, gloves, jacket, pants and Stelvio Water-Proof Riding Boots are my safety net"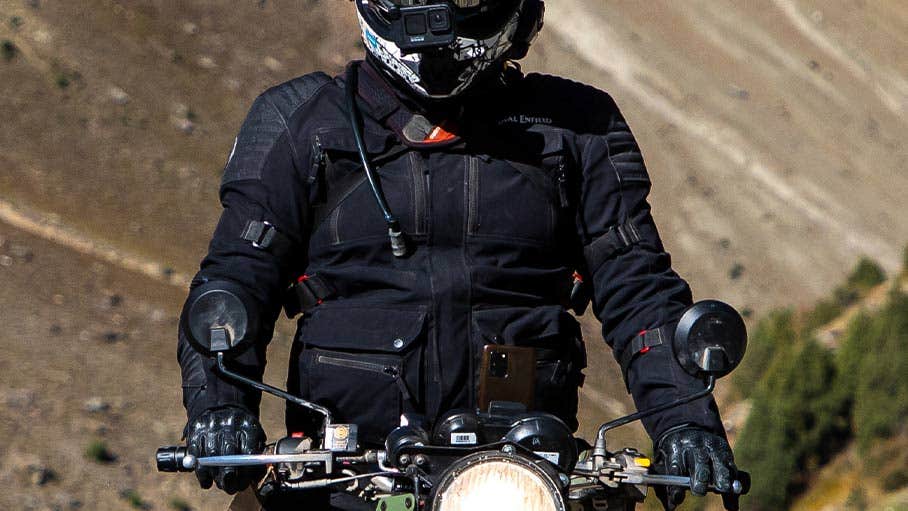 So when he came across the patches of black ice in Jalori, he was subconsciously aware that his riding gear will protect him from any fall he might have. That subconscious feeling instills a confidence in the rider and allows them to enjoy the experience, instead of worrying about safety.
It's not just the black ice. Being prepared with the right riding gear serves him well in conditions where icy winds, snow chills, rough terrains and debris can bring a journey to an abrupt halt. His gear acts as his first and most effective line of defence against all these elements, making the ride a more enjoyable experience.
"The riding gear is a shield between my body and any misadventure that may happen on a ride"
Akhtar also picks out his recent ride to Zanskar, where his gear freed his mind to just enjoy the journey. While dust, strong winds, high altitude, rocky terrains, cold water crossings and more tough obstacles on the trail can be enough to make it a miserable riding experience for an under-prepared rider, Akhtar's riding gear made sure that it ended up being the most enjoyable ride he has ever had.
"I could enjoy the ride because I knew the terrain, and because I was covered in gear from head to toe"
Being prepared also meant he had thought-through small details that could make his ride easier. For instance, while the primary purpose of his Nirvik riding jacket was to offer protection with safety armour, he also made sure to get one with many pockets. On a challenging journey like Zanskar, where your momentum matters and you don't want to stop too many times, these pockets came in handy for him to manage things on the move. They allowed him easy access to essentials such as dry fruits to munch on, an oximeter to keep a check on his oxygen levels at that altitude and even camera batteries to make fond memories from the adventure.
Experiences like his many skids and falls on his journeys across the country through the toughest terrains and conditions have made Akhtar wiser and more confident on a motorcycle. These experiences also made him believe in 'prevention is better than cure.'
"In today's times, where we're taking the idea of 'prevention is better than cure' very seriously, it only makes sense to put in that extra effort to protect yourself on a motorcycle"
Motorcycling has always been seen as an adventurous passion. Follow Akhtar's advice and stay safe on your adventures.