Helmet Certification: Prevailing norms & differences
Whether you're a rider who loves to face new adventures or one who rides their favourite trail every day, a common essential to both, is a helmet. So, it's important to understand how a helmet can be integral to your ride. The most important safety gear -- in the unfortunate case of an accident -- your helmet, is the only barrier between you and physical harm to your head.
After decades of evolution, the modern helmet is crafted to offer a comfortable and snug fit while keeping your head protected. In case of a fall, its design absorbs most of the shock through a layer of crushable foam. It also extends your head's stopping time by about six-thousandths of a second (6 ms). This reduces the peak impact to your brain.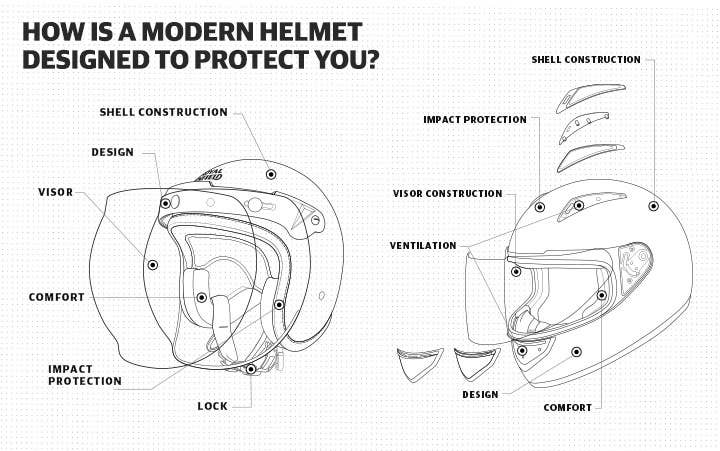 To ensure that the modern helmets sold in different countries and continents comply with minimum quality and safety requirements, there are some technical certifications that they have to carry.
In India, the technical certifications and safety requirements for Motorcycle helmets are governed and regulated by the Bureau of Indian Standards. The recent revision happened in 2015 and so the standard is referred to as IS 4151:2015.
Additionally there are two main Global standards - the U.S. DOT(Department of Transportation) certification and the ECE (the United Nations Economic Commission for Europe) standard. While every helmet on the US road needs to be DOT certified, the ECE standard is a certification for most of the European countries, recognised by well over 50 countries. It is also considered by most racing organisations in the world.
To understand protection, one should begin with energy and its impact. For example: if that energy is transferred to your head — like in a crash — the results can be tragic. Therefore, making impact-absorption extremely crucial in determining helmet safety. This is tested with a drop test from a fixed height on a steel anvil. The test is designed to determine the management ability of your lid when put through different impact energies. And that information is translated into the relative "safeness" of your helmet.
There are plenty of other important factors that determine how "safe" a helmet is. Penetration protection, visibility through the face shield, chin strap retention, even how removable the helmet is in an emergency and more. All this plays into how well your helmet will function on the ride.

Each of the helmet safety standards employs a unique scheme of tests, procedures and requirements before a helmet can carry that particular certification. Given below are the certifications:
DOT FMVSS 218
The DOT standard of helmet safety is often considered the most "basic" of helmet standards, but the testing procedure is actually very thorough. The DOT has strict requirements regarding a helmet's retention system, field of vision, penetration resistance and even labeling. DOT also happens to be the only standard that isn't carried out by its issuing body, instead by individual contractors who test helmets in the hope of finding bad lids. If the standards aren't met, the manufacturer has to face heavy consequences. This is why it has one of the more rigorous impact test schemes.

DOT Impact Test includes dropping the helmet on two different surfaces, or anvils, from a pre-set height. It simulates a crash scenario, and the impact is measured using scientific tools under two separate crash tests.

The helmet also goes through penetration and peripheral vision tests. The strap test ensures it can hold the helmet in place in case of a high-impact situation.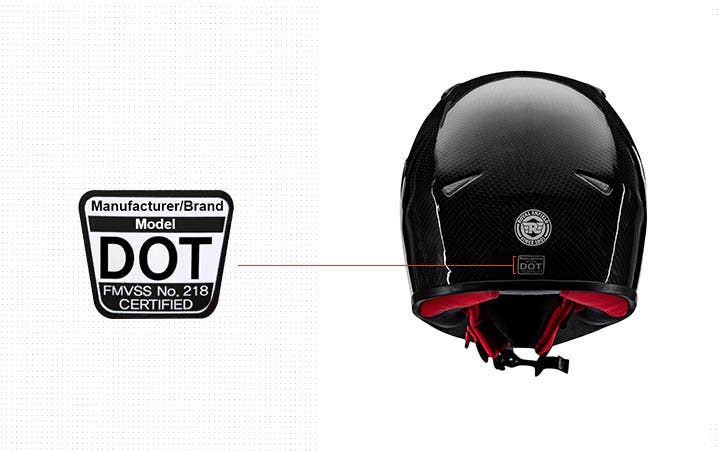 ECE 22.05
The ECE 22.05 standard is much younger than the current DOT standard, and in many ways offers a more comprehensive battery of testing than its American cousin. Considered to be the most up-to-date and extensively protective by many, ECE standards test for safety features that can contribute to avoiding an accident altogether. These include testing for the optical quality of approved face shields, and safety factors like shell rigidity that aren't directly related to impact. Each ECE certified helmet model is actually tested against the standard by an independent lab before it hits the market.
ECE impact testing uses a smooth anvil known as a curbstone and a single blow at predefined areas of a helmet. Apart from this the helmet is tested for abrasion resistance. Its chin strap is tested for slippage and shell for deformation.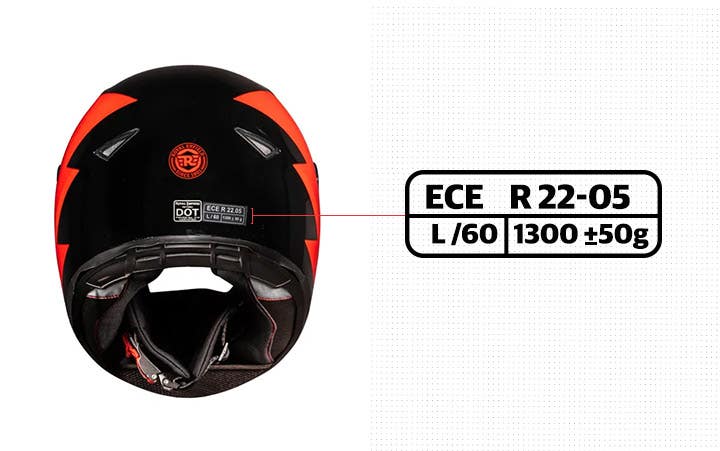 It is generally accepted that a DOT certified helmet would pass the ECE standards, and vice versa, despite having their respective specialised tests and norms.
As far as Indian standards are concerned, to be road legal, the helmets need to have an ISI certification. This aims to improve safety levels and curb poor quality helmet sales.
Indian Standard ISI 4151
The Indian standard for Protective motorcycle Helmets was first released and enforced in 1993 - IS 4151:1993. The test methods and the test specifications were set in line with the standards of ECE.
Since then, the testing has become less stringent, gradually lowering the requirements of the helmet. This stand is justified from the regulator that the new reduced levels are more relevant for the Indian roads where the average prescribed speeds are not as high as the European or American roads. One of the other major challenges that the regulator is trying to solve in the country is to ensure adequate supply of helmets in terms of pricing/distribution along with quick adoption by the end users. Most of the states in India consider the sale of non-ISI helmets a criminal offense and impose fines on riders who wear non-ISI helmets even if they are certified by ECE and DOT. The reason for the difference in these standards is because of the topography of different regions, difference in riding needs as well as conditions. For example, one would expect higher speeds of riding in western countries compared to India. Also, since riding there is an evolved culture and leisure pursuit, riders are more compliant to safety norms and understand the need of appropriate riding gear. Whereas in India, regardless of the riding speeds, the adoption of helmets and other riding gear has been low even when motorcycles are used for daily commuting.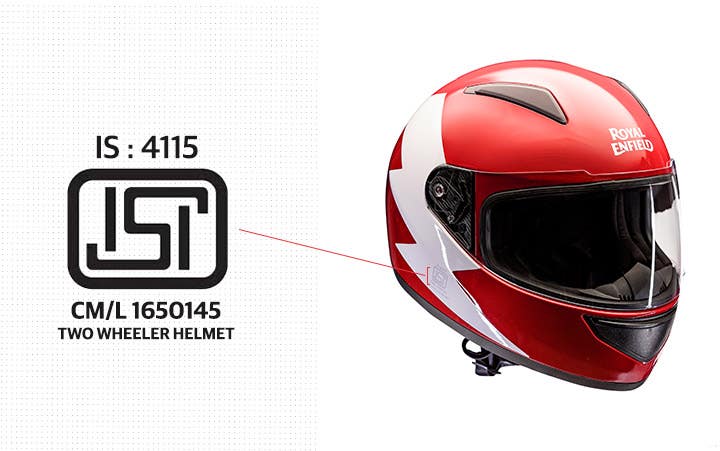 So, whether you're used to riding up rocky hilltops or just jaunting around the city, you must ensure that your Helmet is compliant to the prevalent protective standards. A helmet that is not only certified for ISI - 4151 - Indian Standard but also DOT - Department of Transportation, USA & ECE 22.05 is a perfect solution and a balance between all prevalent standards of certifications.
Given the difference in the safety standards of these certifications and requisite weights, it is extremely difficult to have a helmet with all 3 certifications. A key factor as to why currently there are no such helmets available in the market. However, at Royal Enfield, we believe that each rider should be riding with the protection of certified helmets. One that ensures safety by matching up to national and international road and riding conditions while certifying superior comfort.
The Street Prime range of Helmets is an embodiment of this belief of ours. Starting at just Rs 3700, this range of helmets has been certified by DOT, ECE and ISI. A helmet with all 3 certifications.
So, whenever you step out to buy your next helmet, be sure that it's certified to protect you on your kind of ride.
Ride safe and stay protected!