CE Certified Jackets Vs CE Certfied Armour
Does your riding jacket offer ample protection?
While you are out there chasing sunsets on the coast or just riding up slippery slopes in the hills, you may or may not be certain of where the roads might take you, but you are always certain that your gear will protect you.
Or are you?
Most of the riding gears that are being sold for their protective qualities only had their armours CE certified, instead of the entire garment being certified under CE. Not just that, there is a misconception that CE certified armors and CE certified jackets are the same thing. Let's clear your doubts in that regard.
Since April 2018, all motorcycling gears in Europe, i.e. riding jackets, riding trousers, gloves, riding boots, etc. need to be tested as per the PPE regulations. This means that the entire garment (and not just the armours) has to go through strict testing by an official notified body to be certified under CE.
So, what is this CE standard of protection?
A CE label or marking on a product is a declaration of compliance with the relevant or applicable health, safety, and environmental protection legislation for products sold.
When buying protective motorcycle gear, it is important to know whether the apparel that you're considering is produced to at least a minimum CE standard. Often certification on the armor is confused with certification of the riding garment. Take, for example, the riding jacket. There is a stark difference between a CE certified riding jacket and a jacket with CE certified armours. CE certified armours in riding jackets are used for impact protection, whereas a CE certified riding jacket is not only tested for impact but also abrasion resistance that the fabric offers, protection on impact areas, seam tear and strength, ergonomics of the garment and dimension stability. Armors is just one part of the tests that a riding jacket must undergo to obtain a CE certification.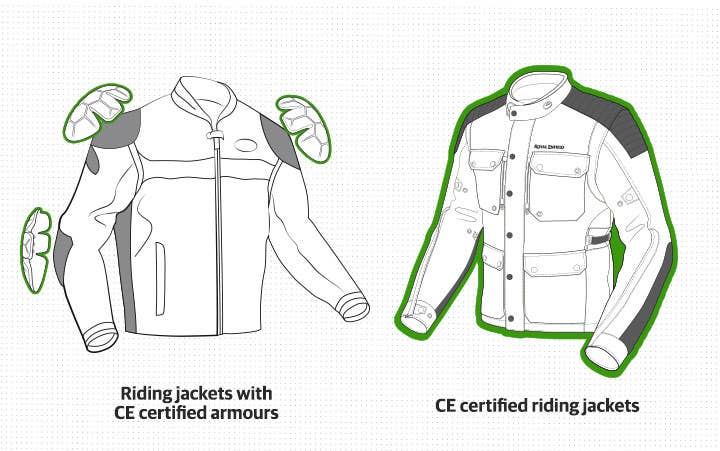 Let's first understand how protective armours are certified for safety. There are two levels of protection offered :
Level 1 protectors

: These are adequate for impact absorption when it comes to daily usage. Appropriate for casual riding, the maximum transmitted force on these must be below 18 Kilo Newton (kN), and no single value shall exceed 24 kN.

Level 2 protectors

: This is generally recommended for y rides where the chances of high-impact crashes are more. The maximum transmitted force must be below 9 kN, and no single value shall exceed 12 kN.
A rider can decide the level of protection he/she needs, based on the kind of ride they're setting out on. One can level up their protection standards, by simply replacing the armours in their riding jacket. But it is not just the level of armour but also the placement of armour that plays a crucial role in safety.
Each riding jacket can be divided basis level of risk into 3 zones.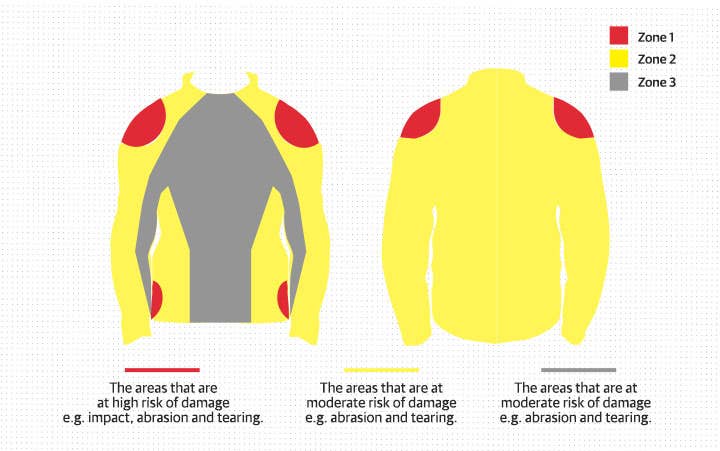 On the other hand exists the riding jacket, where the entire garment (and not just armour) goes through CE testing to ensure safety across all the three zones mentioned above. From fabric to seams and more, everything is put under strict scrutiny in order to meet the CE standards.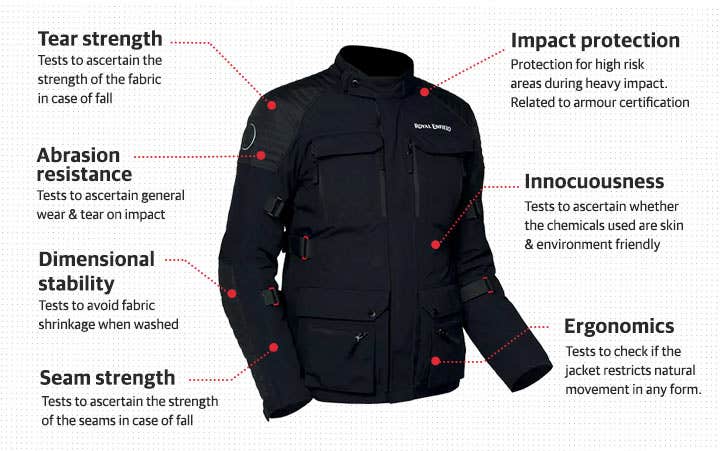 Based on the testing, a CE certified riding jacket is differentiated into various classes.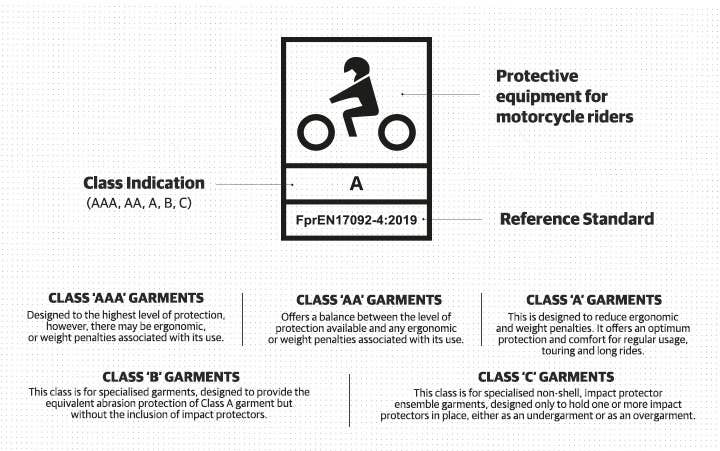 Every CE certified gear comes with a booklet explaining its certified class and the standard against which it was tested. As a responsible rider, you should always ask for this booklet while buying your gear.
At Royal Enfield, we have a longstanding commitment to providing 'a pure motorcycling experience' to our riders. We focus on the 3 virtues of comfort, style and safety while designing our gear. Giving utmost importance to safety, we have introduced a range of new CE Certified riding jackets with Class A protection under PPE regulations. These riding jackets start at just Rs. 4950. Out of these, 5 are completely CE-certified (starting at Rs. 8950) and use CE certified armours from D3O and KNOX -- the market leaders in impact protective armours.
The flagship line high-altitude, all terrain riding jackets, starting at just Rs. 12,950, ensure superior shock absorption with D3O armours. The Khardung La V2 has D3O level 2 armors at elbow and shoulders whereas Nirvik in addition to level 2 armors at shoulder and elbow, also has level 2 armors on the chest and level 1 armors at back.These CE certified riding jackets have undergone various tests to ensure you get better protection while keeping them light and flexible.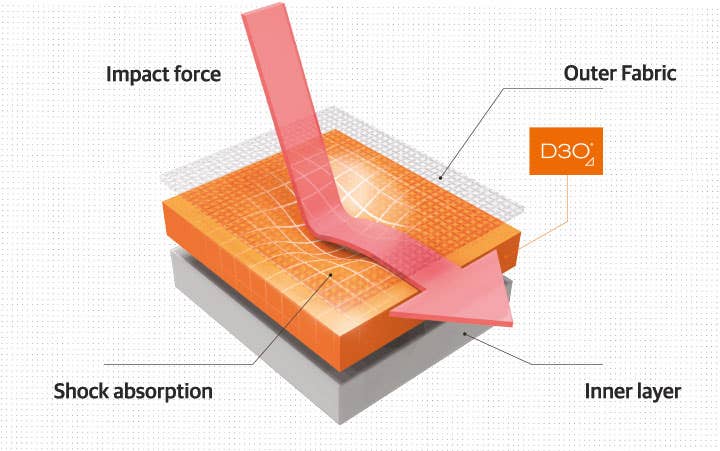 Knox armours, on the other hand, come as part of riding jackets that are more suitable for long or short touring rides. With innovative armour types like the flexiform or the newly launched Micro-lock, Knox armours offer CE certified protection at an economical price; while keeping your jacket lightweight and flexible.
While touring riding jackets start at Rs. 8950 and are all CE certified under class A, the city riding jackets start at just Rs. 4950 (The Streetwind jacket and The windfarer jacket). They come equipped with high-quality Knox CE level 1 armours. The Explorer Jacket has the Knox Micro-Lock CE Level 2 protectors at shoulders and elbow. It is a 3 layer all season riding jacket with a detachable thermal liner along with a rain layer that can be worn separately also. These Knox armours are designed to absorb maximum energy on impact, making it perfect for those looking to blend safety with comfort & style.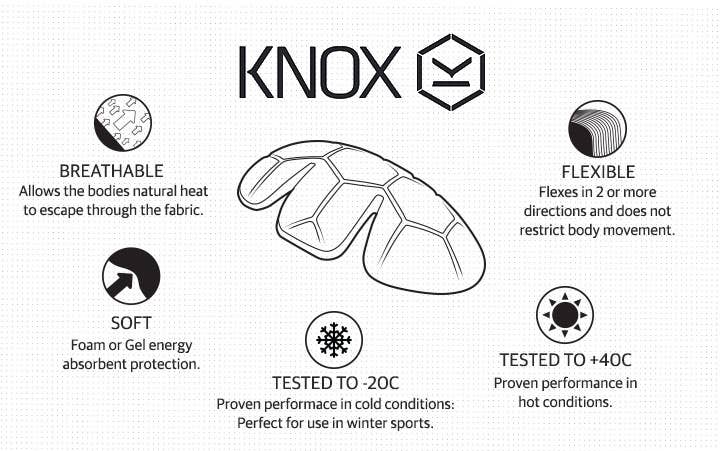 Our endeavour is to ensure rider safety and enhance their motorcycling experience. We've put forth a diverse range of riding gear that caters to multiple riding needs and is affordable and easily available.
So, the next time you plan on riding up those tricky slopes or traversing unknown coasts, be sure to carefully study the labels, markings, and instruction manual provided with the riding jacket. Be mindful of the difference between CE certified armours in a riding jacket and a CE certified riding jacket before deciding on what is better for your ride.
Keep riding and ride safe!