The Art of Motorcycling Goes NFT
The Art of Motorcycling Goes NFT!
Art is not what you see but what it makes you feel…the same stands for motorcycling. Art and motorcycling are the two passions of life which makes you breathe with a different kind of happiness. That was the starting ground for a rollercoaster of a journey called the Art of Motorcycling.
Over the decades, art has become an integral part of Royal Enfield. Each motorcycle, even today, embodies the artistic expressions of hundreds who work on them. Taking inspiration from that spirit, the Art of Motorcycling was born to celebrate the artistic community of the country and we're proud to say that it has become a movement on its own. Over the past two seasons of AOM, Royal Enfield has successfully provided a platform to the artists who wanted to share their stories and love for motorcycling with us.
With this emotion in heart, we took our support for the artistic community a step further where the artists of today get to become the maestros of tomorrow, in true futuristic style with our very first collection of NFTs featuring the 10 winning artworks from seasons 1 & 2 of the Art of Motorcycling.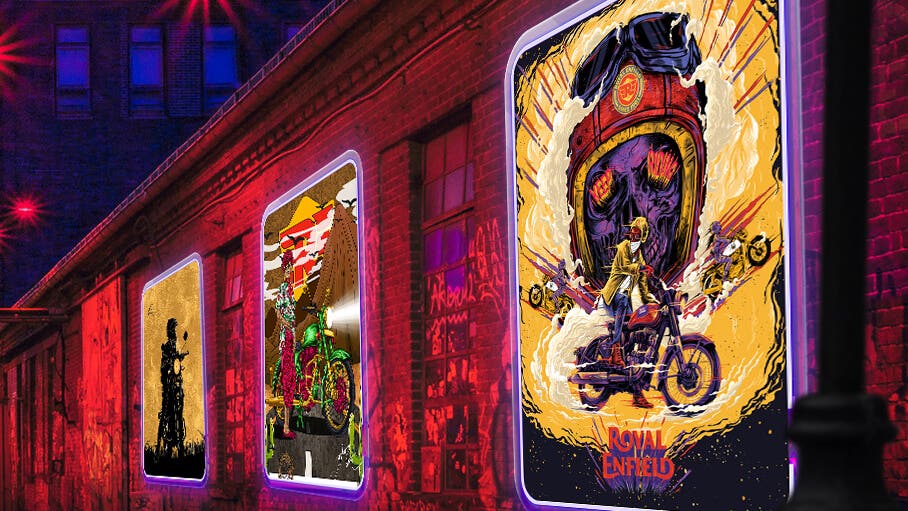 These artworks are an expression of the varied perspectives with which the world expresses its love for motorcycling. Be it the futuristic interpretation of the Royal Enfield bike in Pallab Baruah's Cyber Flux, an expression of a childhood dream of owning a Royal Enfield bike coming true in Abhirath's Own the Dream, or Niharika's fascination with the power of imagination through her artwork named 'New Moon', every artist has their own unique story to tell. And Royal Enfield has the platform for them to tell their stories.
NFTs are the new crypto-trend and the latest topic in the digital space right now and Royal Enfield is here to explore this uncharted territory with full throttle. Especially with the aim of providing these young artists with a global platform to showcase their art. It has been an honour to be part of their journey.
The artworks were listed on foundation.app & was SOLD OUT IN 4 DAYS.
Check out the collection here.
The future is here, wear your helmet, sit tight and enjoy the ride.